Krokus Reviews
---
25.05.10: Here is what some of the US critics had to say about "Hoodoo":
- Loud Reviews: "Balls out Rock-n-Roll the way it should be played."
- Heavy Metal Hog: "Hoodoo has, in fact, achieved the difficult task of preserving the true Krokus vibe while sounding fresh and vibrant against the present-day hard-rock landscape –
in short, it has brought the past into the present."
- Metal Pub: "Solid, straight up, in your face rock n roll!"
- Hard Rock Hideout: "Do not resist the "hoodoo spell", let it get under your skin and enjoy the magic ride!"
- Mojo Radio: "Hoodoo is yet another excellent album from a classic hard rock/metal band pumping blood back into what has become a stagnant genre over the last 20 years."
- Heavy Metal Addiction: "Krokus has taken that shot and created an album that is on par with some of their best work. I would rank HOODOO right up there with the classic albums of the
1980-1984 era and I am positive that this record will be one of my top albums of 2010."
- Hails & Horns: "Hoodoo is chock full of well worn, rockers that at once, rehash the past and refresh the legacy."
- The Examiner: "The new album fits right in with Krokus masterpieces like Metal Rendez-Vous, One Vice At A Time and Headhunter right from the opening guitar of the CD opener."
- Revolver Clips: "Krokus Bring An All Out Rock Assault With "Hoodoo."
- Metal Excess: "This is easily one of the best albums I've heard so far this year. It rocks from beginning to end. The sounds are full of energy and the band is fired up."
- Hard Rock Haven: "Hoodoo is proof that Krokus is simply one of the best Hard Rock bands ever, and, that they aren't stopping any time soon."
- Classic Rock Revisited: "Krokus has chosen the perfect time to get back into the game. Hoodoo fits nicely next to their classic albums of yesteryear. While Swiss cheese may come with
holes in it, Hoodoo has none; this is a complete album, start to finish."
---
Krokus - CD-Release-Party im Kofmehl Solothurn
26.02.10: Es war eine heisse Party im vollen Kofmehl, die sich gewaschen hat. Die geladenen Gäste waren ausser sich vor Freude, so ging's auf der Bühne ab. Krokus, wie zu ihren besten Zeiten gaben alles - ein Konzert.... man möchte sagen.... der Superlative. "Hoodoo" ist etwas vom geilsten, was Krokus überhaupt jemals brachten. Ein Song nach dem anderen rockte das Haus wie selten. Eine begeisterte VIP und Fangemeinde von Krokus waren ausser sich vor Begeisterung über einige Zugaben hinweg, mit dem gecoverten Abschluss-Song "Born To Be Wild" der von allen mitgesungen wurde. Es war mit paar Wörtern gesagt: "The Hell Of Rock". Ausser, dass die 5 Jungs in Bestform waren und unglaublichen Applaus absahnten, gibt es nichts mehr hinzuzufügen ausser: "Krokus you are great forever!"
Fotos der Release-Party findet ihr hier BV-Krokus-Kofmehl! RL
Bei einem Heimspiel in der Kulturfabrik Kofmehl in Solothurn heizten Marc Storace, Chris Von Rohr, Fernando Von Arb, Freddy Steady und Mark Kohler dem Publikum in ihrer Urformation mächtig ein. Die Location war voll bis in die letzte Ecke und das frisch gepresste Video von "Hoodoo Woman" wurde auf die Leinwand geworfen, um die Wartezeit bis zum Auftritt zu verkürzen. Zu diesem Anlass gab es nur Eintritt mit Einladung inklusive 100 Fans, welche bei einem Gewinnspiel Tics gewinnen und dem einzigartigen Ereignis beiwohnen konnten.
Krokus schmetterten ihre neuen Songs in die rockende Menge. "Hoodoo Woman" ist zu diesem Zeitpunkt schon ein echter Ohrwurm und wurde lauthals mitgesungen. "Drive It In", "Rock n Roll handshake", "In My Blood","Shot of love", "Dirty Street" gestalten das Album im gewohnten bluesigen Hardrockstyle und verwandelten die Kulturfabrik in einen Hexenkessel mit den Hexenmeistern an der Front.
Aber auch Klassiker wie "Born to be wild". Die flotten Songs "Firestar" und "Keep Me Rolling" gehen direkt ins Blut und es bleibt einem nix anderes übrig, als einfach nur mitzurocken..... "Ride Into The Sun" hingegen schlägt etwas langsamere Töne an und hat einen Touch von schönen Wehmuts. Unter den VIPs an der Party waren unter anderem Mandy Meyer, Exgitarrist von Krokus und Gotthard, zur Zeit eigene Projekte. Mark Fox, Ex Shakra Sänger, und Dominik von Shakra, beide in Begleitung. Doro Pesch. Eric St. Michels, Frontman von China (BV-China) mit seinen Bandmitgliedern und und und.......
Kein Zweifel, die Jungs haben keinerlei Power oder Charisma eingebüsst. Ein durch und durch gelungenes Comeback von einer der erfolgreichsten Rockbands aller Zeiten. Eben ein echter "Rock'n'roll handshake"! Marion
---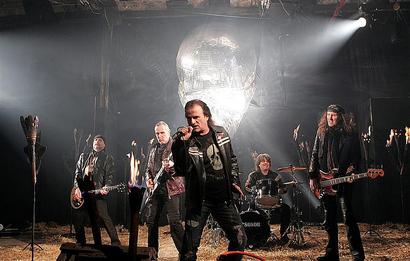 Krokus zittern vor Kälte bei heissem Video-Dreh von "Hoodoo Woman" in Berlin - Tipp 1
19.01.10: Am 26.02.10 ist der offizielle Releasetag an dem das Album "Hoodoo" in den Läden zu kaufen ist. Also nicht mehr lange warten !!! Vorher aber noch ein paar News über Arbeit der Jungs von Krokus!
Sibirische Winde pfeifen durch die Nacht, es ist -22°C Grad kalt. In einem ungeheizten Club zünden Krokus ihr neues Rock-Feuerwerk! Berlin, Dienstag 26.01.10 um 20:30h, Geisterstimmung in einer alten Fabrikhalle. Ein riesiger Totenkopf hängt an einer Wand, Fackeln lodern, knochentrockener Hardrock hallt durch die Gänge. Was geht hier vor?
Krokus drehen hier ihr neues Video zur Single "Hoodoo Woman"! In einem Saal baut ein 20köpfiges Filmteam Requisiten auf, die 5 Musiker sitzen zitternd in einem Nebenraum, nicht vor Nervosität sondern vor Kälte - "Arschkalt" sagen Krokus unisono. Draussen mittlerweile -16°C, drinnen trotz Fackeln und Scheinwerfern um die 0°C Grad. Gitarrero Fernando von Arb reibt sich die Hände: "Ich will einfach nicht noch mal krank werden. Ich hatte Anfang Jahr schon eine Lungenentzündung, eine reicht mir!" Derweil sitzt Bassist Chris von Rohr bleich und bibbernd auf einem Sofa. Ihn plagt nicht nur der Berliner Winter. "Ich habe Magen-Darm-Probleme", klönt Chris "....von irgendeinem Gammelfleisch". Sänger Marc Storace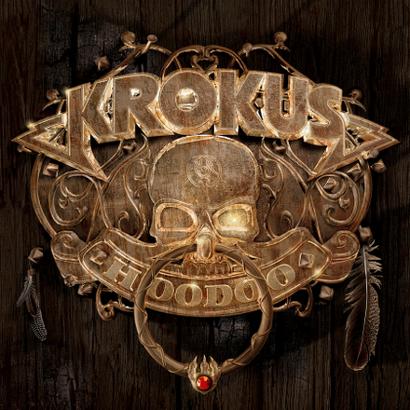 streichelt lachend sein Bäuchlein: "Und ich habe Fisch gegessen. Schnell verdaut so sehe ich jetzt ich im Video schlank aus! ;-)"
"Hoodoo Woman"
Eins wird in dieser Nacht deutlich: Krokus sind zurück, als Band und als Team. Die Stimmung unter den Fünfen ist trotz Minustemperaturen herzlich und warm. Chris beisst tapfer auf die Zähne und scherzt mit Stylistin Kordula Ullmann (52), sie solle ja "genug Druck" an der Band lassen. Gitarrist Marc Kohler: "Die Freude ist gross. Jetzt können wir kaum noch warten, dass das Album rauskommt und wir die Bühnen stürmen."
Jetzt geht's los. Nebel füllt die Halle. "Action!" ruft Regisseur Oliver Sommer. Krokus rocken vor den Kameras zu den heissen Klängen von "Hoodoo Woman", immer und immer wieder. "Das ist ja wie beim Militär.....", scherzt Drummer Freddy Steady, "...es ist saukalt, vorne schreit einer, und alle hampeln im Takt herum!"
Nach Mitternacht - draussen zeigt das Thermometer -22° C, die kälteste Berliner Nacht dieses Winters - ist das Video im Kasten. Alle sind müde, alle grinsen. Von Rohr: "Auch ein Rezept für Glückseligkeit: "Einfach mal alle ein paar Stunden in den Kühlschrank stellen!".
Das war wohl für Krokus der "heisseste Videodreh" in der kältesten Januar-Nacht des Jahres in Berlin! Danke für die Neuigkeiten Peter!
More interesting Krokus Details and pictures on BV-Krokus - your Blue Visions Team!

Live-Gigs
30.04.10 CH - Zuchwil SO - Eishalle Sportzentrum - Tickets
01.05.20 CH - Winterthur ZH - Eishalle Deutweg - Tickets
07.05.10 CH - Wichtrach - Eishalle Sagibach - Tickets
08.05.10 CH - Sursee LU - Stadthalle - Tickets
16.07.10 D - Balingen - Bang Your Head Festival 15th anniversary - Co-Headliner - Tickets: www.bang-your-head.de
---
Krokus - noch 39 Tage bis zum Release von "Hoodoo" - Tipp 9
18.01.10: Das warten ist bald vorbei. In genau 39 Tagen (und Nächten) wird die neue CD "Hoodoo" erhältlich sein. Die lange Wartezeit hat sich gelohnt. "Hoodoo" enthält 11 Tracks und die Digipack Version enthält zusätzlich noch eine DVD mit magischen Momenten des "Wunders von Bern", der Reunion Periode 2008. Auf der Website von Krokus kann man einen Schnipsel des neuen Songs "Hoodoo Woman" hören. Den gesamten Song könnt ihr auf der Jukebox bei www.myspace.com/krokusonline geniessen. Und gleichzeitig die Details des überdimensionalen "Hoodoo" Covers bewundern.
"Hoodoo Woman" wird garantiert unter die Haut gehen. Je mehr man den Song anhört, desto mehr fasziniert die "Hoodoo Magic". Zum Mitsingen kann man den Text auf der GLOBE CLUB Seite unter LYRICS-2010 HOODOO finden.
Momentan wird die CD gepresst und das Cover/Booklet gedruckt. Über eine Spanne von mehr als einem Jahr Arbeit, ruhen sich die "Hoodoo Band Mitglieder" nun in der "Hoodoo Lounge" aus. Sie haben ihr alles gegeben, ausgelaugt bis zum letzten Rock'n'Roll Tropfen. Speziell "Hoodoo Chris", welcher auch die neue CD mit Schweiss und Fleiss produzierte.
"Hoodoo" wurde von Dennis Ward (Produzent von "Hellraiser") in den House of Music Studios in Winterbach, Deutschland aufgenommen mit zusätzlichen Aufnahmen bei Pink Bild & Ton (Ex-Krokus Jürg Naegeli) in Solothurn, Schweiz und Henson Studios in Los Angeles. Dennis Ward ist ein wahrhaftig guter Producer (mit amerikanischen Wurzeln). Er hat schon Bands wie Pink Cream 69, Godiva, Elisabeth White, Krokus, Axxis, Crown Of Glory u.a. produziert. An den 3tägigen Christmas-Parties in Bätterkinden 2002 habe ich ihn persönlich kennen gelernt, ein smarter Typ, sehr offen uns sympathisch. Aber hier zu den Songtiteln:
Hoodoo

1. Drive It In

2. Hoodoo Woman

3. Born To Be Wild

4. Rock'n'Roll Handshake

5. Ride Into The Sun

6. Too Hot

7. In My Blood

8. Dirty Street

9. Keep Me Rolling

10. Shot Of Love

11. Firestar

Dennis Ward

Producer of the year 2005

Fotografie, Grafik und Artwork von "Hoodoo" wurden von Martin Häusler entworfen, welcher auch die dynamischen Fotos während dem 2008 Reunion Konzertes geschossen hatte. Ein paar Bilder der "Hoodoo" Serie findet ihr auf der GLOBE CLUB Seite (unter MULTIMEDIA> KROKUS PICTURES> 2010 HOODOO), und ihr könnt seine Livebilder nochmals auf der GALLERY Seite (Stade De Suisse) besuchen. Leistet keinen Widerstand gegen den "Hoodoo Zauber", lässt ihn unter Eure Haut ziehen und geniesst die "Magische Musikalische Reise"! www.krokusonline.com
ACHTUNG AN ALLE: Soviel kann ich sagen, die Songs sind "auffällig und gemeingefährlich" top! Mein Tipp, auf jeden Fall kaufen, z.B. bei www.cede.ch! rl - mehr..... BV-Krokus!
---
Krokus - CH-Gold für "Hellraiser" - Lunatica 11.04.07

Lunatica waren gestern am 11.04.07 Support-Band von unseren international bekannte Krokussen im Alpen Rock House in Kloten ZH. Eine attraktive, sehr gute Band mit 6 Leuten inspirierte die Gäste zum Rocken und Headbangen und das Warm-Up für Krokus. Die Sängerin Andrea Dätwyler besticht mit ihrer (fast ruhig) guten und schönen Stimme, die Jungs machen die Musik dazu, ein sehr gutes Team, wie mir Andrea auch bestätigen konnte. Die Bandmitglieder sind aus dem Aargau und Solothurn. Lunatica haben bereits 3 Studio-Alben gebracht. Es rockte und rockte bis zur Pause für den Aufbau der Instrumente von Krokus..........
Lunatica hat nun bei Blue Visions ebenfalls eine eigene Seite mit Fotos, klickt hier BV-Lunatica und schaut rein.

Riesentaumel als Krokus die Bühne betraten und begannen zu spielen. Unermüdlich singt Marc Storace die Songs mit unverkennbarer rauer Stimme, in nichts älter geworden. Ein unglaublicher Mandy Meyer (früher bei Gotthard) verblüffte mit seinen gekonnten Super Riffs auf seiner Gitarre. Er hat den Platz von Fernando von Arb eingenommen. Es erfordert Können von Mandy in die Fussstapfen von Fernando zu treten. Er jedoch ist hier am richtigen Platz und gibt alles, was die Gitarre verkraftet, er spielt super, steht Fernando von Arb in nichts nach, kann sich richtig ausleben, was bei Gotthard als Rhythmus-Gitarrist nicht möglich war. Ein strahlender und immer wieder sehr gut aussehender Mandy Meyer spielte sein Ding absolut perfekt. Die fünf rissen mit ihren Hard-Rock-Songs das Publikum mit, was vom Applaus her bestätigt wurde. An Performance fehlte es auch nicht, Bewegung war auf der Bühne angesagt. Setliste vorbei, einige Zugaben für die Fans waren an der Reihe. Sie bekamen sie, was wieder daraus zu schliessen ist, dass Krokus wirklich etwas für die Fans tun, nur durch diese wurden sie schliesslich erfolgreich und im internationalen Rock-Geschäft berühmt. Krokus ist in der Branche ein Begriff!

Nach den offiziellen Songs gab's die ersten Zugaben, bis Peter Waelti das Mikrofon ergriff, 'Fan-Club-Boss' der eigens aus Denver US für dieses Konzert hierher geflogen ist um die Fans über das Aktuellste zu informieren. Sehr aktuell war das Schweizer Gold für "Hellraiser" in relativ kurzer Zeit, seit das Album in den Läden ist. Peter suchte sich im Vorfeld 5 Fans aus dem Publikum und stecke alle in das aktuelle Hellraiser-T-Shirt. Nach seiner Ansprache übergaben die fünf Frauen feierlich die goldenen Schallplatten an jeden strahlenden Krokus. Die Freude seitens der Band war riesig, in der Schweiz zu Gold gekommen zu sein. Sie freuten sich über das Geschehen und spielten noch einige Zugaben für ihre Fans. Krokus rockt wie nie zuvor, der absolute Ohrenschmaus für Rock- und Hardrock-Fans. Wie immer gab es danach Autogramme für jede und jeden. Ein super Rock-Abend ging zu Ende, alle waren begeistert und zufrieden. Fotos auf dem ARH Kloten Schalter ganz oben.
---
Newsletter from Peter Waelti - Manager USA and chief of the Krokus-Fanclub
We received so much positive feedback from our "HELLRAISER CONTEST" that we're on "cloud 9" in between touring, interviews and more touring. Krokus would like to thank you all for your participation. Picking the winners was not easy, however, someone had to win in the end - so that we can give away those awesome prizes! As our number 1 winner David mentions: "no fillers - all killers"! We think of your entries the same way!

The top 3 answers/contributions are listed below (scroll down). And here are the lucky winners:

Number 1 Winner:
DAVID ARNOLD, LAVINGTON, NSW / AUSTRALIA
David wins "THE PACKAGE", consisting of:
- Signed European Record Store Poster "Hellraiser" (20x27.5 inches)
- Signed Swiss Copy of "Hellraiser" CD
- Unsigned German Copy of "Hellraiser" CD (contains limited edition bonus track "Walking in the spirit" & 2 limited edition video tracks "Hellraiser" and "Rock City", recorded live in Switzerland and playable on PC only plus Krokus wallpaper)
- Signed Autograph Picture by entire band (6x 10 ¼ inches)
- Set of 4 guitar picks (front "Krokus" logo, back imprinted signature of Marc, Mandy, Dominique & Tony)
- Signed "Acoustic Set List" from September 23rd, 2006 at world renowned "Rockfabrik" in Ludwigsburg/Germany
- 6 pink tokens, front "Rockfabrik" logo, one each signed on the back with black sharpie by one musician and the sixth one blank for framing (if you do not want to frame them, you can cash in the tokens for a drink each!)
- 2 unsigned color pictures (4x6 inches) from "Rockfabrik" gig, suitable to frame with tokens

Number 2 Winner:
KEVIN FRASIER, CASTRO VALLEY, CALIFORNIA / USA
Kevin wins all of the above with the exception of "Hellraiser" limited edition CD

Number 3 Winner:
MIKE WEGMUELLER, UERKHEIM / SWITZERLAND
Mike wins all of Package Number 1 with the exception of "Hellraiser" limited edition CD and without European Record Store Poster

Number 4 & Number 5 Winners (listed in alphabetical order of last name):
AARON FREDERICK, GROVES, TEXAS / USA
STEFAN HERRMANN, WALDSTETTEN / GERMANY
Aaron & Stefan each win a signed Swiss copy of "Hellraiser" CD, signed autograph picture of entire band and set of 4 guitar picks

Number 6 to Number 10 Winners (listed in alphabetical order of last name) (5. Platz):
MARKUS BAUMBERGER, SCHAFISHEIM / SWITZERLAND
JUERGEN DAUFRATSHOFER, PUERGEN / GERMANY
ANTHONY GRILLI, STRONGSVILLE, OHIO / USA
RITA LOTTENBACH, BLUE VISIONS, ZOFINGEN / SWITZERLAND
JIM MONTGOMERY, WESTBORD, MASSACHUSSETTS / USA
These lucky winners will receive each a signed Swiss copy of "Hellraiser" CD

Number 11 to Number 15 Winners (listed in alphabetical order of last name):
HOLLY CRAVEN, CARMEL, NY / USA
SVEN JUERGENSEN, BIRSFELDEN / SWITZERLAND
LOU LOOMIS, FELTS MILLS, NY / USA
PIERPAOLO MONTI, LAZZATE-MILANO / ITALY
DAVID SHANER, NEWARK, OHIO / USA
These lucky winners will receive each a signed European Record Store Poster "Hellraiser" (20"x27.5")

Number 16 to Number 25 Winners (listed in alphabetical order of last name):
EUGENE ANDERSON, GOSHEN, INDIANA / USA
KONSTANTIN BOTCULA, MINSK / BELARUS
ABDO DE SOUZA CHAIM, RIO DE JANEIRO / BRAZIL
ATANAS DIMITROV, SOFIA / BULGARIA
LORENZ FRUTIG, THUN / SWITZERLAND
JEFFREY HERD, MANASSAS PARK, VIRGINIA / USA
ANGIE RABB, MARION, NORTH CAROLINA / USA
MICHEL ROD-LORLOM, DIERIKON / SWITZERLAND
ANDY SCHAULIN, LAUSEN / SWITZERLAND
JOYCE SMITH, HANOVER, PENNSYLVANIA / USA
These lucky winners will receive each a signed autograph picture by entire band.
---
Here are the contributions of our top 3 winners:
Number 1 Winner DAVID ARNOLD:

Well I finally received my copy of 'Hellraiser' in the mail today & wasted no time ripping it out of the packaging to check out this beast up close for myself &, believe me, am I impressed! First what struck me was the fantastic photo's & liner notes, Krokus really look like a Rock band that you would be proud to hang a poster of up on the wall. The pictures are dynamic & the artwork superb, reminiscent of earlier Krokus releases. So with my appetite wetted I carefully placed the disc in the stereo & with bated breath I pressed play. Wow, was I blown away or what!?!
The opener & title track 'Hellraiser' was everything I was hoping for & more, to my ears it has that real old classic Krokus sound with chanting drums, driving guitars, Storace screams & that unmistakable warble Marc has when holding the longer notes. Even the way the song concludes with intense impact that hits you right in the face, yes classic Krokus thru & thru. I know what I love & I love this song !!
I've had time to listen to the album twice now & can see it fast becoming my favorite Krokus release ever, No fillers -All killers!! I'm very impressed with the variety of quality songs on offer from the seemingly dark & down-tuned guitars of 'Fight On', the slow smoldering sentiments of 'So Long', the power metal of 'Spirit of the Night', right to the good feel party rocker 'No Risk, No Gain', now that's one that will easily get stuck in my head. More great Storace moments (long noted warbles) in 'Midnight Fantasy' & I love how the last verse cuts back to the drums & bass with just Marc's vocals to be heard before picking up the full band again for the conclusion- just brilliant. I hear you asking " What about the ballads the boy's are famous for?" Well they haven't let me down at all, in fact they are probably the most moving the guys have ever penned, what with the mature sounds & somber moods of 'Hangman' (reminds me a little of 'screaming in the night') & 'Take my love', to the beautiful 'Angel of my Dreams' which has a great oriental feel to the intro. I also dig the laid back, cool rocking 'Love will Survive', a real nice Led Zep vibe thing happening- I just love it.
But to answer the questions" What is my favorite & 2nd favorite songs" that was a difficult one with so many fantastic offerings to choose from. My gut & initial response whittled the choice down to 3, all based upon me being a traditional Hard Rocker at heart. The 3rd spot goes to 'Too Wired To Sleep' with that classic sounding Krokus intro & all that great lead guitar you hear behind the singing of the final half. 2nd goes to 'Hellraiser' for all the reasons I stated at the outset & more. But the tune that has captured my heart at the number 1 position is none other than 'Turnin' inside Out', this song ROCKS !! Fantastic vocal intro from Marc, squealing guitar from Mandy that often times sound as if they are talking back at you, catchy as hell rhythm & melody from Tony & Dominique, & that awesome double bass kicking of Stefan's at the conclusion is almost energizing. I would describe this song as Modern Old Krokus if that makes any sense, has the old feel but with a modern vibe & tempo- talk about music to my ears! I think this is the best Krokus line-up ever, the boy's are going from strength to strength & I'm very proud to say that I have been a Krokus fan for some 20 years now & they haven't let themselves or their fans down with this superb release, certainly one of the gems in their discography. I will be getting all of my mates into this one for sure. All I can say in conclusion is " Well done guys, you've done the Krokus name proud!! "

Number 2 Winner KEVIN FRASIER:
It was with great anticipation that I placed my shiny, new copy of 'Hellraiser' in my CD player for the first time. Not only had I been re-energized three years earlier with the release of the highly underrated 'Rock The Block', but the return of Mandy Meyer to the lead guitar spot after a 20+ year hiatus also stoked my anticipation. It was obvious from the first few chords of the opener that I would not be disappointed!
'Hellraiser' starts off the album with rolling drums and an invitation from Marc Storace to 'take it to the limit', which is abundantly apparent the band is quite capable of doing. I defy anyone to drive with this track and 'Too Wired To Sleep' blasting back to back on the car stereo and not get pulled over for speeding.
'Hangman' allows you to take your foot off the gas for a time and enjoy one of the finest vocal performances on the album. The track shows Marc Storace's importance to the band not only as lead vocalist, but also with some of the best harmonies on the album.
'Angel Of My Dreams' is the album's first single and, for my money, the strongest track. The subdued opening is somewhat reminiscent of 'Screaming In The Night' with the sound of distant guitars building to a moody crescendo throughout the balance of the track. This song seems to exemplify the strength of the album as a whole with strong vocals and stellar musicianship from the boys.
As someone who worships at the altar of Mandy Meyer and has followed his career closely from Cobra to Asia to Gotthard, 'Hellraiser' is an absolute showcase for his immense skills. My second favorite track, the bluesy 'Justice' is probably my favorite song from a musician's point of view. Meyer's signature is all over this track, and more than a few times I have played it over and over on repeat just to hear some of the licks that I missed the first time.
The special edition of 'Hellraiser' closes with the bonus track 'Walking In The Spirit'. While I have never been one to search out import CD's just for extra tracks, this is a strong song that fits in well with the rest of the album and is a nice extra for those willing to go the extra mile to track down the special edition.
Having been a fan since the mid 80's, 'Hellraiser' is probably the bands finest release since the classic 'Headhunter', and considering that is something I said about 'Rock The Block', it makes me look forward to their next release even more!!
Now let's get some American tour dates firmed up including a stop (or three) in Northern California! :)

Number 3 Winner MIKE WEGMUELLER:
(English translation follows below)
Gänsehaut und Glücksgefühle hatte ich, als die ersten Töne von "Hellraiser" aus meinen Lautsprechern dröhnten. Geile Drum- und Gitarrenparts und eine einzigartige Stimme des für mich besten Rocksängers aller Zeiten. Nach dem ersten durchhören der CD, war für mich schon eines klar: Wohl das beste Krokus Album aller Zeiten! Grund genug, die Luftgitarre zu stimmen und los zu rocken.
Der opener der Platte, "Hellraiser" fährt schon mal richtig ein. Mal wieder richtiger Hard Rock, wie man ihn von Krokus kennt. Marc's Stimme ist wieder einmal aussergewöhnlich, Mandy's Gitarrenarbeit par excellence und durch Stefan Schwarzmann kommt die Rhythmussektion richtig zum kochen. "Too wired to sleep". Geiler Riff, melodischer Refrain, ein Solo, dass unter die Haut geht. So muss es sein!
"Angel Of My Dreams" erinnert an die gute alte Zeit. Eine wunderschöne Ballade, gleich wie "So Long". Einfach wunderbar.
Dann das absolut geilste, was ich je gehört habe. "Spirit Of The Night"...ich hatte fast Tränen in den Augen, weil es so einfuhr. Diese Heavy Metal Granate widergibt das, was ich seit "Headhunter" vermisst habe. Meine Luftgitarre glühte förmlich. Einfach nur genial!
"Midnite Fantasy", "Turnin Inside Out", "Justice" und "Love Will Survive". Allesamt Klassiker. Ich kam aus dem Staunen nicht mehr heraus.
"Rocks Off!" ist hinter "Spirit Of The Night" mein 2.Favorit. Mir fehlten die Worte, als ich diesen Song zum ersten Mal hörte. Und dies ist auch jetzt noch so. Einfach unbeschreiblich...
...unbeschreiblich, so wie das ganze Album. Für mich, auf jeden Fall das Beste Album in Sachen Hard Rock/Heavy Metal. Müsste eigentlich in jedem Land dieser Erde auf Platz 1 stehen. Das Songwriting ist nicht zu überbieten. Dominique's Riffs sind genial, Mandy's Solos unantastbar. Der Wechsel auf der Trommelposition hat richtig gut getan. Dank Stefan klingt der Sound vielseitiger, schneller, härter und moderner. Ausserdem sind auch Tony's Bass Spuren nicht zu überhören, die ja auch nicht von schlechten Eltern sind.
Wie schon erwähnt ist "Spirit Of The Night" mein absoluter Favorit. Schnell, hard & heavy und trotzdem melodiös. Pure N.W.O.B.H.M!
Dichter Verfolger ist "Rocks Off". Auch schweres Metall, mit einer genialen Vereinigung zweier obergenialer Riffs.
Man kann seine Gefühle gar nicht richtig beschreiben, wenn man diese Scheibe hört. Man hat nur den Eindruck, dass das Leben wieder Sinn macht. Macht weiter so! Keep On Rockin!

(English Translation):
I had shivers down my spine as I listened to the opening chords of "Hellraiser" through my stereo's loudspeakers. Awesome drum and guitar riffs and the unbelievable "voice" of (in my opinion) the best rock singer of all times. After listening through the entire album for the first time, it was apparent to me that "Hellraiser" is the best album of all times! Reason enough to tune my "air guitar" and let it rock.
The opening track "Hellraiser" is a typically Krokus penned hard rock tune that sets the mood. Marc's voice is extraordinaire! Mandy's guitar work is excellent and new drummer Stefan Schwarzmann gives a "hellraisin - boneshakin' " performance.
"To wired to sleep". Incredible guitar riff, melodic chorus and a solo that goes under your skin. Hard Rock at it's best!
"Angel of my dreams" makes you think of the good 'ole times. A beautiful ballad, as "So long" is as well. Wonderfully executed!
Then the absolutely hottest track I've ever heard: "Spirit of the night". It almost brought tears of joy to my eyes, that's how much it rocked me. This heavy metal grenade delivers what I missed since "Headhunter". My air guitar was roaring. Too hot to handle! Simply genius!
"Midnite Fantasy", "Turnin' Inside Out", "Justice" and "Love Will Survive". What can I say? All future classics!
"Rocks Off" is after "Spirit Of The Night" my second favorite song on the album. I was speechless as I heard this song for the first time. Heavy Metal with a clever combination of two awesome guitar riffs flowing together. And I am still speechless! Simply unbelievable..
.. Unbelievable, like the entire album. For me, this is the best album that Hard Rock / Heavy Metal has to offer. Should be number 1 in each country and continent. The song-writing talent is incomparable. Dominique's guitar riffs are those of a genius, Mandy's solo work untouchable. And the change with new drummer Stefan has improved the rhythm section significantly. The drumming sounds faster, harder, more modern and most importantly more variety and creativity in drum beats than ever before. And Tony's bass lines keep the entire band "grounded", rough and dirty.
As already mentioned, my absolute favorite song on the album is "Spirit Of The Night". Fast, hard & heavy and yet melodic. Pure adrenaline boiling!
One has a hard time expressing one's feelings when listening to this (new) album. One thing's for sure: Life (with "Hellraiser") is worth living again! Keep on rockin'!
---
In case you wondered, your overall number 1 favorite song on the album was tied between "Spirit Of The Night" and "Angel Of My Dreams".
And your overall number 2 favorite song on the album was "Spirit Of The Night".

Combining your number 1 + number 2 favorite ones into one ranking, these are your FAVORITE TOP 5 songs from the HELLRAISER album:
1. Spirit Of The Night
2. Angel Of My Dreams
3. Hellraiser
4. Too Wired To Sleep
5. Tied: Midnite Fantasy & Turnin' Inside Out

Congratulations again to all winners. Your prizes will be shipped from Denver/USA this coming week and you all should receive them before the Holidays.
And as American fan Angie Rabb wrote to Krokus: "30 years later you're still playing on my bedside radio." Keep on listening because we will come and rock your town soon!

Rock On, Peter Waelti
KROKUS GLOBE CLUB FOR CLAN AND FAN
P.O.BOX 17552
DENVER, COLORADO 80217
U.S.A.
---
REVIEW BLUE VISIONS - RITA LOTTENBACH (6-10) 6. Platz

Review – Krokus – Hellraiser
05.11.06: Seit dem 15.09.06 ist es draussen, das 15. Studio-Album von Krokus. Einen Tag später, während ihrer Party in Rheinfelden erhielten die Krokusse bereits Gold in der Schweiz für ihr neues Album. Das heisst, es sind in einem Tag bereits 25'000 Silberlinge verkauft worden.
Wer hätte das im August 06 schon gedacht, als die erste Auskoppelung des Albums, die Single "Angel Of My Dreams" erschien. "Angel Of My Dreams" enthält alles, was den Song zu einer wundervollen Ballade macht, eine fantastische Melodie, bewegende Lyrics und präsentiert mit Mark Storaces einzigartiger Stimme vor einer tollen Krokus-Crew mit Mandy Meyer, Tony Castell, Dominique Favez und Stefan Schwarzmann.
Krokus sind bereits 30 Jahre on the road. Sie ist eine der erfolgreichsten Rock-Bands und hat Schweizer Rock-Geschichte geschrieben. Mit "Hellraiser" beweisen sie, dass die Band in Top-Form ist. Die einen Songs sind wirklich hammerhart, wie z.B. der siebte "Spirit Of The Night", und gehören eigentlich in Ketten gelegt. Die Balkenbrecher sind zu den Vorgänger-Alben bzw. Songs absolut TOP, gehen in die Seele und Beine eines verzückten, ekstasierenden Publikums. Die anderen Songs, sind teilweise Balladen die träumen lassen. In den sehr melodischen Rock-Songs kommt Marks hervorragende Stimme stark in den Vordergrund, mehr als bei den schnellen Tracks. Mir gefällt das ganze Album, deshalb ist es schwierig euch 2 beste Songs zu empfehlen. Mein Lieblingssong der härteren Art ist sicher Nr. 13 ""Love Will Survive" sowie Nr. 14, der absolute Hardrock-Hammer-Song "Rocks Off", weil sie textlich überzeugen und abfahren. Ich komme nicht darum herum auch für die Träumer unter euch Nr. 6 "So Long" nahe zulegen, sanft, sehr melodisch mit dem vollen Stimmenpotenzial von Mark Storace, das hier besonders besticht. Alles in Allem, die Krokus-Giganten haben ihre Fans mit "Hellraiser" einmal mehr überrascht.
Die CD wird in über 20 europäischen Staaten, Nord- und Süd-Amerika, Australien, Israel, Russland, Japan, Korea, China und Thailand released bzw. ist. Ausserdem: Krokus haben das Plattenlabel gewechselt und bei AFM Records unterschrieben mit ihrer neuen CD, was sich evtl. auch günstig auswirken kann. Ich bin davon überzeugt, dass Krokus damit Platin machen, keine Frage. Kauft sie euch, Empfehlung von Blue Visions mit 9 von 10 erreichbaren Punkten auf der Hit-Skala. Gratulation den Jungs und viel Erfolg bis zu Platin.
---
up